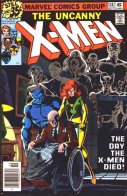 Uncanny X-Men # 114: Desolation""
Writer: Chris Claremont/John Byrne
Penciller: John Byrne
Inker: Terry Austin

Jay's Rating: JJJJ
Synopsis:
The Beast and the Phoenix are rescued from the Antarctic and return to the States where they break the news of their teammates' apparent deaths. Meanwhile, the rest of the team (Banshee, Colossus, Cyclops, Nightcrawler, Storm, and Wolverine) has managed to escape the complex's destruction by tunneling down into the Savage Land. They are befriended by a tribe of natives, but before they can let their guard down they're attack by Sauron.

Jay's Notes:
The series' title changes to "The Uncanny X-Men".