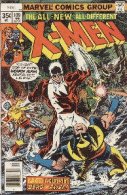 The X-Men # 109: "Home are the Heroes!"
Writer: Chris Claremont
Penciller: John Byrne
Inker: Terry Austin

Jay's Rating:
JJJJJ
Synopsis:
The X-Men return to the mansion and enjoy some well-deserved time off. However, Weapon Alpha, who's keen on the return of a Canadian asset gone AWAL, attacks Wolverine. Weapon Alpha defeats Wolverine, but their battle draws the X-Men's attention. He does his best against the X-Men, but he's outnumbered and withdraws.

Jay's Notes:
First appearance of Weapon Alpha, later renamed Vindicator and finally Guardian, and next seen in X-Men #120 with Alpha Flight.