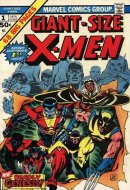 The X-Men Giant-Size # 1: "Second Genesis!"
Writer: Len Wein
Penciller: Dave Cockrum
Inker: Dave Cockrum

Jay's Rating:
JJJJ
Synopsis:
Professor X assembles a new international team of X-Men, Banshee, Colossus, Nightcrawler, Storm, Sunfire, Thunderbird, and Wolverine, for a deadly rescue mission. Cyclops explains that he was the only original X-Man that escaped from their first encounter with a strange new mutant menace. He leads the new team, fraught with personality conflicts, to the island of Krakoa. They split up and are attacked only to realized that the island itself is alive. Cyclops also learns that this mutant feeds on other mutants and he has led his new team of X-Men into a trap. However, they free the original X-Men and begin an assault on Krakoa. Professor X joins in and they keep the island busy long enough for Polaris to propel it into orbit.

Jay's Notes:
First appearance of Colossus, Nightcrawler, Storm, and Thunderbird.
First and last appearance of Krakoa.
Partially reprinted in Classic X-Men #1, X-Men Special Edition #1, and Marvel Milestone.