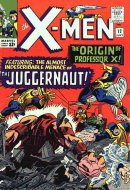 The X-Men # 12: "The Origin of Professor X"
Writer: Stan Lee
Penciller: Jack Kirby (breakdowns)/Alex Toth (finished pencils)
Inker: Vince Colletta

Jay's Rating: JJJJ
Synopsis:
Professor X's mutant detection device, Cerebro, announces a fearsome mutant menace. Xavier has the X-Men erect a defensive perimeter around the mansion. He then tells them of his childhood. His father died and his mother remarried his father's fellow scientist Dr. Marko. Marko's own son from a previous marriage, Cain, takes an immediate dislike of Xavier and bullies him. While the mutant menace makes it way through the defensive perimeter, Xavier continues his tale. While in Asia during the Korean war, Xavier and Cain stumble upon a lost temple of Cyttorak. Cain grabbed the gem of Cyttorak and was transformed into the Juggernaut. Enemy shelling destroyed the cave and Xavier was the only one to escape. The mutant menace, now revealed as the Juggernaut, breaches the mansion and swat aside the X-Men to face off against Xavier.

Jay's Notes:
First appearance and origin of the Juggernaut!
Insight into Xavier's youth.