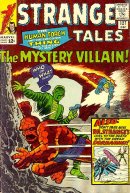 Strange Tales # 127: "Duel with Dormammu!"
Writer: Stan Lee
Artist: Steve Ditko

Jay's Rating:
JJJJJ
Synopsis: (10 pages)
Dr. Strange engages Dormammu in mystical combat. Dormammu is impressed by Strange's abilities and is forced to uses all his magic to defend himself. However, this drain reduces the energy barrier which prevents the Mindless Ones from overwhelming the Dark Dimension. Strange helps Dormammu contain the Mindless One and Dormammu vows not to invade the Earth. Upon his return, the Ancient One rewards Strange with the Eye of Agamatto and a cloak of levitation.

Jay's Notes:
First appearance of the Mindless Ones, Eye of Agamatto, and the Cloak of Levitation.