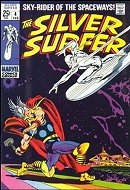 February 1969
Silver Surfer # 4: "The Good, the Bad, and the Uncanny!"
Writer:Stan Lee
Penciller:John Buscema
Inker:Sal Buscema

Jay's Rating: JJJJJ
Synopsis:
Loki sets his sights on the Silver Surfer in another attempt to destroy Thor. He engages the Silver Surfer to test his power and finds him a match for Thor. Loki tricks the Silver Surfer into believing that only he can save Asgard from Thor. Loki takes the Silver Surfer to Asgard, where the Surfer is met with Thor's hospitality. Loki is forced to initiate a battle between Thor and the Surfer, and has supplemented the Surfer's powers with his own. Thor falls to the Surfer's power cosmic, but the Surfer, realizing how he was tricked, withdraws. Loki banishes the Surfer back to Earth.

Jay's Notes:
John Buscema's art for this issue is outstanding.
This story's strength was its focus on Loki, rather than Thor. Loki uses the Surfer against Thor thorugh cunning and deceit. The Surfer is an innocent, but powerful victim caught inbetween their feud.
Hats off to Stan and John for this one!