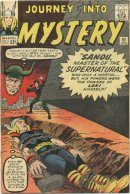 Journey Into Mystery # 91: "Sandu, Master of the Supernatural!"
Writer: Stan Lee/Larry Lieber
Artist: Joe Sinnott

Jay's Rating:
JJ1/2
Synopsis:
Loki augments the powers of Sandu, a sideshow psychic, and he begins a world-wide campaign of terror. Thor confronts Sandu, but Sandu defeats him. Using his belt of strength, Thor frees himself. Sandu overloads his power trying to pick up Thor's hammer.


Jay's Notes:
First use of the belt of strength.
First appearance of the Valkyries, although they are far from warrior women.
Reprinted in Marvel Tales #9.