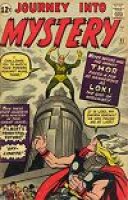 Journey Into Mystery # 85: "Trapped by Loki, the God of Mischief!"
Writer: Stan Lee
Penciller: Jack Kirby
Inker: Dick Ayers

Jay's Rating: JJJJ
Synopsis:
Loki is inadvertently freed from his prison by Heimdall and travels to Earth to resume his feud with Thor. He draws Thor into a battle that rages across New York City. Loki is finally outwitted and defeated.

Jay's Notes:
First appearance of Balder, Heimdall, Loki, Odin, Tyr and Asgard.
Reprinted in Journey Into Mystery Annual #1.