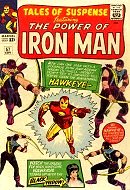 Tales of Suspense # 57: "Hawkeye, the Marksman!"
Writer: Stan Lee
Artist: Don Heck

Jay's Rating:
JJJJ
Synopsis:
Clint Barton, a carnival marksman, witnesses Iron Man's timely prevention of what could have been a deadly carnival ride accident, and decides to try his hand at heroics. Donning a costume and a quiver of specialty arrows, Hawkeye sets out to make his mark. Unfortunately, he prevents a robbery but ends up becoming the suspect. To make matters worst, he meets up with the Black Widow and falls for her. The Black Widow convinces Hawkeye to take on Iron Man and he's more than willing to impress the young woman. He attacks Iron Man on his home turf and actually defeats him. However, Iron Man catches up with Hawkeye later. The Black Widow is accidentally harmed during their battle and Hawkeye flees and gets her to safety.

Jay's Notes:
First appearance of Hawkeye. Hawkeye is next seen in Tales of Suspense #60.
Reprinted in Marvel Collectors' Item Classics # 17 and Thunderbolts #39.