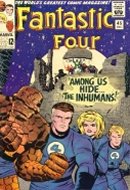 Fantastic Four # 45: "Among Us Hide ... The Inhumans"
Writer: Stan Lee
Penciler: Jack Kirby
Inker: Joe Sinnott

Jay's Rating:
JJJJ
Synopsis:
Gorgon's powerful hoofs allow him to escape with Medusa. Sue manages to calm down the Dragon Man. Later, Johnny meets up with a beautiful young woman, Crystal who introduces him to her family ... the Inhumans! When Johnny spots Medusa he makes a break and summons the rest of his team.

Jay's Notes:
First appearance of Crystal, Lockjaw, Karnak, Triton, and Black Bolt.