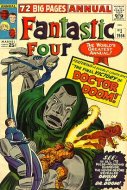 Fantastic Four Annual # 2
Writer: Stan Lee
Penciller: Jack Kirby
Inker: Chic Stone

Jay's Rating: JJJJJ
Synopsis:
"The Fantastic Origin of Doctor Doom!" 12 pages
Doom recalls his memories of youth and remembers how his father was brutally killed. Doom, driven by a thirst for vengeance, learns the secrets of magic from his mother's belongings and learns modern science when he attending State University. He is disfigured when an experiment to free his mother from hell fails and he returns to his homeland and assumes the guise of Dr. Doom.

"The Final Victory of Dr. Doom!" 25 pages
Dr. Doom is rescued from his exile in space by the time-traveller known as as the Pharaoh. Doom returns to Earth and sets out another plot to destroy the FF. The FF are invited to a Latverian gala celebration and Doom cleverly uses the FF's insecurities against them. They figure out that Doom's responsible and confront him. Doom challenges Reed to a duel to the death, but Reed's able to trick him into believing that he has destroyed the FF. The FF leave Doom alone since he, as the head of state for Latveria, enjoys diplomatic immunity.

Jay's Notes:
Dr. Doom last seen in FF# 23.