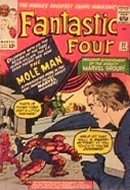 Fantastic Four # 22: "The Return of the Mole Man!"
Writer: Stan Lee
Penciller: Jack Kirby
Inker: George Bell

Jay's Rating: JJJJ
Synopsis:
Reed discovers the full extent of Sue's powers; she can make other objects invisible and manipulate an invisible force field. The other residents of the Baxter building file complaints about the FF's presence. Reed takes the team to an island, which is for sale, that may solve their problems. Unfortunately, it's a trap set by the Mole Man, who reveals his newest plot to gain control of the world. The Fantastic Four defy his death traps and with the help of Sue's new powers, defeat him.

Jay's Notes:
Reprinted in Marvel Collector's Item Classics # 16 and Essential Fantastic Four Volume #2.