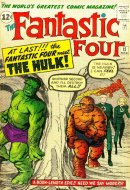 Fantastic Four # 12: "The Incredible Hulk"
Writer: Stan Lee
Penciller: Jack Kirby
Inker: Dick Ayers

Jay's Rating:
JJJJ
Synopsis:
The Thing's date with Alicia is interrupted by the military, who mistake him for the Hulk. Once that's settled, T-bolt Ross recruits the FF to take on the Hulk, since they believe him to be responsible for sabotaging military bases. The FF track him down and battle it out. The Hulk escapes, but they discover the true saboteur.