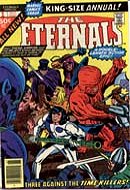 The Eternals Giant Size # 1: "The Time Killers"
Writer: Jack Kirby
Penciller: Jack Kirby
Inker: Mike Royer

Jay's Rating: JJJ1/2
Synopsis:
Zuras dispatches Thena, who takes along Reject and Karkas, to deal with the time machinations of the Deviant Zakka. They battle Jack the Ripper and Mongol warriors all summoned through time by Zakka. Zakka summons Tutinax the Mountain Mover, who is more that he can handle, and is killed. Thena, Reject and Karkas prepare to face Tutinax, but they are spared his wrath as he is pulled back into the past.