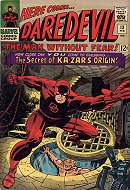 Daredevil # 13: "The Secret of Ka-Zar's Origin!"
Writer: Stan Lee
Penciller: Jack Kirby/John Romita
Inker: John Romita

Jay's Rating:
JJJ1/2
Synopsis:
Daredevil fends off an attack by the ape-man MaaGor only to be recaptured by the Plunderer. The Plunderer is reunited with his brother Ka-Zar, who learns his origin and relation to the Plunderer, and is also taken captive but not before he gives Daredevil the healing herbs which restore his powers. The Plunderer then makes his way to his English castle where he hopes to use the half of Ka-Zar's pendent, along with his half, to unlock a cache of Vibranium. Fortunately, Daredevil escapes and frees Ka-Zar, with his half of the pendent, and they both flee the castle.