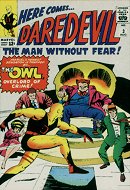 August, 1964
Daredevil # 3: "The Owl, Ominous Overlord of Crime"
Writer: Stan Lee
Penciller: Joe Orlando
Inker: Vince Colletta

Jay's Rating:
JJ1/2
Synopsis:
When an overconfident underworld figure known only as the only as the Owl is threatened with police charges, he randomly picks Nelson & Murdock. When the Owl doesn't show up for court, DD decides to investigate. The Owl and his goons decide to kidnap Murdock, but when DD shows up they capture Karen and DD is forced to surrender. They are taken to the Owl's Aerie, but DD escape his prison and frees Karen. DD confronts the Owl, but he manages to escape.

Jay's Notes:
First appearance of the Owl.
First use of DD's backpack to store his clothes. Although, it only lasts two issues.
The Matt/Karen/Foggy subplot moves to the forefront.
Colletta's inks are disappointing.