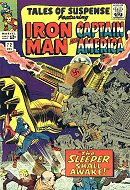 December 1965
Tales of Suspense # 72: "The Sleeper Shall Awake!"
Writer: Stan Lee
Penciller: George Tuska (with layouts by Jack Kirby)
Inker: George Tuska

Jay's Rating: JJJ
Synopsis: (10 pages)
Cap is haunted by strange nightmares of the Red Skull and remembers that the Red Skull had vowed, twenty years ago, to unleash the final Nazi threat codenamed the Sleepers. Cap investigates, but arrives too late as some of the Red Skull's lackeys have already awoken the Sleeper. Cap is unable to stop the Sleeper and it moves on in search of the other Sleepers.

Jay's Notes:
cameo by Quicksilver, the Scarlet Witch and Hawkeye.
The stories in this series are now set in the "present".