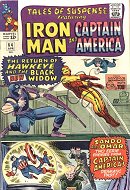 April 1965
Tales of Suspense # 64: "Among Us, Wreckers Dwell!"
Writer: Stan Lee
Penciller: Jack Kirby
Inker: Frank Ray

Jay's Rating: JJJJ
Synopsis: (10 pages)
Cap and Bucky investigate the eerie duo of Sando and Omar who seem to have the uncanny talent of predicting Nazi terrorist attacks on the US. They discover, along with Agent Thirteen, that their act is just a cover for an operation meant to strike fear into the heart of Americans. However, Cap, Bucky, and Agent Thirteen quickly put an end to this Nazi operation.

Jay's Notes:
This story is a retelling of "Sando and Omar" from Captain America Comics #1 (1940).
First appearance of Agent Thirteen who is working for the Women's Army Corps.