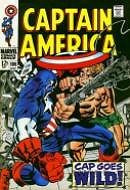 Captain America # 106: "Cap Goes Wild!"
Writer: Stan Lee
Penciller: Jack Kirby
Inker: Frank Giacoia

Jay's Rating:
JJJ
Synopsis:
Cap fails to stop a group of Asian commandoes who flee with the plans for S.H.E.I.L.D.'s LMDs. Meanwhile, a film producer, with an ill brother, is hired to draw Cap's interest. Cap arrives and battles an LMD of himself. The battle turns in the favor of the LMD, but the producer's brother intervenes and saves Cap.