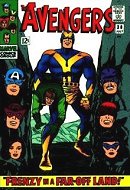 Avengers # 30: "Frenzy in a Far-Off Land!"
Writer: Stan Lee
Penciller: Don Heck
Inker: Frank Giacoia

Jay's Rating: JJ1/2
Synopsis:
Goliath seeks the help of an old friend and stumbles upon a secret society. Hawkeye takes on the Swordsman, Power Man and with the Black Widow's help he defeats them.

Roll Call:
Black Widow, Captain America, Goliath, Hawkeye, Quicksilver, Scarlet Witch, and Wasp.

Jay's Notes:
Redemption for Hawkeye in the defeat of the Swordsman.