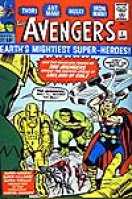 Avengers # 1: "The Coming of the Avengers!"
Writer: Stan Lee
Penciller: Jack Kirby
Inker: Dick Ayers

Jay's Rating: JJJJJ
Synopsis:
Loki uses the Hulk as a pawn to attract the attention of Thor and inadvertantly gathers Ant Man, Iron Man, Thor, and Wasp together. Thor deals with Loki while the others keep the Hulk busy. In the aftermath, they decide to form the Avengers.

Roll Call:
Ant Man, Hulk, Iron Man, Thor and Wasp.

Jay's Notes:
The Wasp dubs them the Avengers.