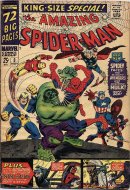 1966
Amazing Spider-Man Annual (1966) # 3:
"... To Become an Avenger!"
Writer: Stan Lee/John Romita
Penciller: John Romita
Inker: Don Heck

Jay's Rating:
JJJJ
Synopsis:
The Avengers debate whether or not to extend a membership offer to Spidey. DD is consulted and puts in a good reference for the web head. Spidey is invited to the Avengers mansion, where he loses his temper waiting for them to come up with a suitable test for him. Finally, they decided to have him capture the Hulk. However, Spidey doesn't have the heart to turn in the misunderstood monster and willingly fails their test.

Avengers' Roll Call:
Captain America, Giant-Man, Hawkeye, Iron Man, Thor, and Wasp.

Jay's Notes:
This issue also reprints Amazing Spider-Man #11 and #12.
Reprinted in Marvel Tales #181.