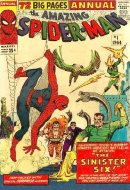 Amazing Spider-Man Annual # 1: "The Sinister Six!"
Writer: Stan Lee
Artist: Steve Ditko

Jay's Rating: JJJJJ
Synopsis:
Doc Ock escapes from prison and recruits Electro, Kraven, Mysterio, Sandman, and the Vulture to form the Sinister Six. Meanwhile, Spidey struggles with the mysterious loss of his powers. The Sinister Six kidnap Betty and Aunt May as bait. Spidey regains his powers in time to run through a gauntlet of his fiercest enemies. He defeats each villain and rescues the two most important women in his life.

Jay's Notes:
Cameos by Captain America, Dr. Strange, the Fantastic Four, Giant Man and Wasp, Iron Man, Thor, and the X-Men.
Beautiful splash pages by Ditko, one with Spidey and each member of the Sinister Six.
Solid plot device using the egos of the Sinister Six to defeat themselves.