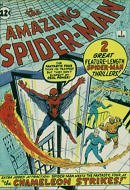 Amazing Spider-Man # 1
Writer: Stan Lee/Steve Ditko
Artist: Steve Ditko

Jay's Rating:
JJJJ
Synopsis:
"Spider-Man" 14 pages
Uncle Ben's death has left Aunt May and Peter in financial dire straits. Peter decides to give show business another try. However, J. Jonah Jameson the publisher of the Daily Bugle launches an anti-Spider-Man campaign and prematurely ends Spidey's career. Yet, Spidey doesn't hesitate to rescue Jameson's son John as his space capsule looses its guidance. J.J. Jameson twists the events in his paper and actually blames Spider-Man for the accident.

"Spider-Man vs. the Chameleon" 10 pages.
Spidey pays a visits to the Fantastic Four hoping that they can hire someone with his abilities. Unfortunately after a brief scuffle, Spidey learns that they're a non-profit organization and he quickly loses interest. However, a spy called the Chameleon takes an interest in Spidey and sets him to take the fall for the theft of missile defense plans. Spidey catches up with the Chameleon and helps the police capture the spy before he can sell the plans to the Soviets.

Jay's Notes:
First appearance of J. Jonah Jameson, John Jameson, and the Chameleon
In "Spider-Man", Ditko plays around a variety of panel arrangements from 3 panels per page to 7 panels per page, whereas in "Spider-Man vs. the Chameleon", he sticks to a rigid 9 panels per page.
Interestingly, there's no mention of the main theme of "great responsibilities come with great powers" from Amazing Fantasy #15.
"Spider-Man vs. the Chameleon" featured Spidey's first use of his spider instinct sense.