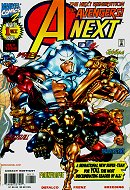 A Next # 1: "Second Coming!"
Writer: Tom DeFalco
Penciller: Ron Frenz
Inker: Brett Breeding

Jay's Rating:
JJJ
Synopsis:
Kevin Masterson, the son of Thunderstrike, visits Avengers Mansion and inherits his father powerless mace, Thunderstrike. Unfortunately, Loki's trolls have a keen interest in it. An Avengers distress call is sent out and the Avengers assemble, as well as a few other heroes, to help Kevin. Loki transports them to Asgard where he attempts to release Thunderstrike's enchantment to its full potential. However, Kevin disrupts the spell and absorbs the mace's power. He then summons Thor, which prompts Loki and his forces to flee. The team is return to Earth where Jolt, Jubilee, and Speedball take their leave. J2, Mainframe, Stinger and Thunderstrike announce the formation of the next generation of Avengers.

Roll Call:
Jolt, Jubilee, J2, Mainframe, Speedball, Stinger, and Thunderstrike II.

Jay's Notes:
First appearance of J2, Mainframe, Stinger, and Thunderstrike II, as well as Shannon Carter (see issue #4).
Not a big fan of either Jolt, Jubilee, J2, or Speedball. You'd think with all the 'J's that I wouldn't have any problems liking them.
Nice cameo by Thor who has taken his rightful place on the throne of Asgard.
What happened to the original Avengers?!
Stinger is Cassie Lang, the daughter of Scott (Ant Man II) Lang.
J2 is the son of the Juggernaut.
Mainframe, visually, seems to be closely related to Iron Man.