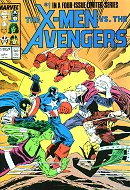 X-Men vs. Avengers # 1: "Justice For All!"
Writer: Roger Stern
Penciller: Marc Silvestri
Inker: Joe Rubinstein

Jay's Rating:

JJJ1/2
Synopsis:
The Avengers respond quickly to destroy fragments of an asteroid that has fallen out of orbit. The asteroid was the former base of Magneto. Information is leaked to the media in hopes of drawing out Magneto because he's accused crimes against humanity. Magneto travels, with his X-Men following behind, to South East Asia to investigate the largest fragment. The Avengers arrive and demand Magneto's surrender. Also, the Soviet Super Soldiers, led by the KGB's Crimson Dynamo, want him brought back to face Soviet justice.
Avengers Roll Call:
Black Knight, Captain America, Captain Marvel, Dr. Druid, She-Hulk, and Thor.