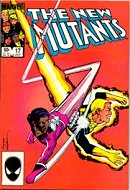 The New Mutants # 17: "Getaway!"
Writer: Chris Claremont
Penciller: Sal Buscema
Inker: Tom Mandrake/Kim DeMulder

Jay's Rating:
JJJ1/2
Synopsis:
Danielle and Illyana attempt to rescue their teammates, but they fail. The Hellions, who aren't pleased with the New Mutants being forced to join their ranks, challenges the New Mutants to a duel for their freedom. However, before their fate is decided, their duel is interrupted by the White Queen and Sebastian Shaw. Fortunately, Kitty creates a diversion that allows the New Mutants to escape.