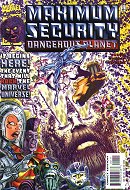 Maximum Security: Dangerous Planet # 1: "A Very Dangerous Planet"
Writer: Kurt Busiek
Penciller: Jerry Ordway
Inker: Will Blyberg/Paul Ryan

Jay's Rating:
JJJJ
Synopsis:
The Intergalactic Council meets to admit a new race calling themselves the Ruul. Unfortunately, the meeting is dominated by talk of the constant interference of humans and how they are a threat that must be dealt with. However, the proceedings are interrupted by Ego the Living Planet who attacks Selandiar, the planet on which the council has convened. Professor X and his Cadre K, and the Silver Surfer attack Ego and with the help of the Ruul overwhelm Ego and capture the Living Planet. Despite having just been rescued, the Council rules unanimously against humanity and Lilandra must decide how to deal with Earth. The Ruul approach her and have a suggestion.