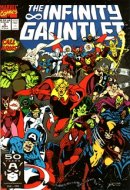 Infinity Gauntlet # 3: "Preparations for War"
Writer: Jim Starlin
Penciller: George Perez
Inker: Joe Rubenstein

Jay's Rating: JJJJ
Synopsis:
Warlock and company gather an army of heroes. Warlock and the Silver Surfer attend a Cosmic Summit (Eternity, Watcher, Kronos, Lord Chaos, Master Order, Living
Tribunal, Celestials, Galactus, Stranger, Love and Hate), where Eternity is unable to convince the Living Tribunal to interfere since he believes in natural selection where
Thanos may replace Eternity. After a bit of persuasion, the Cosmic Powers decide to join forces with Warlock. Thanos create a mate called Terraxia in hopes of making Death
jealous. The Heroes attack!