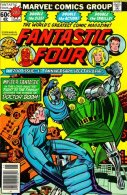 Fantastic Four # 200: "When Titans Clash!"
Writer: Marv Wolfman
Penciller: Keith Pollard
Inker: Joe Sinnott

Jay's Rating:
JJJJ
Synopsis:
Doom, angered beyond measure since he had to murder his own son/clone, captures the FF and continues with the next step of his plan. Doom travels to the US while the FF free themselves and rescue Alicia. The FF pursue Doom and Reed decides to take on Doom alone while the rest of the team heads for the United Nations. Reed battles Doom and survives his deathtraps. Meanwhile, Sue, Johnny, and Ben have their hands full at the UN when Doom's statue sends hypnotic rays that brainwash the UN members. Reed defeats Doom and deactivates Doom's statue.

Jay's Notes:
17th anniversary spectacular!