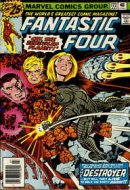 The Fantastic Four # 172: "Cry, the Bedeviled Planet!"
Writer: Roy Thomas
Penciller: George Perez
Inker: Joe Sinnott

Jay's Rating:
JJJJ
Synopsis:
Frustrated with his inability to convince the FF of the threat of Galactus, Gorr escapes and traps the FF in his space ship. Gorr explains to them that Galactus has discovered the High Evolutionnary's Counter Earth and will destroy it if they don't stop him. The Thing battles in vain against the Destroyer. Galactus arrives.