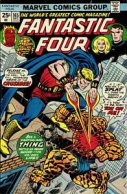 Fantastic Four # 165: "The Light of Other Worlds!"
Writer: Roy Thomas
Penciller: George Perez
Inker: Joe Sinnott

Jay's Rating:
JJJJ
Synopsis:
Reed continues to worry about the strain of using his powers. Meanwhile, the Crusader continues his crazed rampage, a vendetta against those he feels is responsible for contributing to the destuction of the colony of Uranus. The FF confront the Crusader and the battle leads to his unfortunate self-destruction.