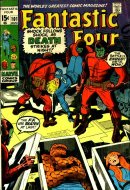 Fantastic Four # 101: "Bedlam in the Baxter Building!"
Writer: Stan Lee
Penciller: Jack Kirby
Inker: Joe Sinnott

Jay's Rating: JJJJ
Synopsis:
The Maggia buys the Baxter Building and evicts the Fantastic Four in a clever attempt to get their hands on their technology. The team does its best against a horde of Maggia agents who claim to be defending their building. However, the Fantastic Four manage to capture the Maggia's local leader, Top Man, which ends their threat.

Jay's Notes:
Reprinted in Fantastic Four #180.