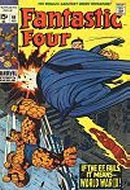 Fantastic Four # 95: "Tomorrow: World War Three"
Writer: Stan Lee
Penciller: Jack Kirby
Inker: Joe Sinnott

Jay's Rating:
JJJ1/2
Synopsis:
An organization seeking world domination sends one of its agents, the Monocle, to disrupt volatile mid-east discussions in hopes of plunging the world into chaos. The Monocle tests his "neutrak" ray on the Fantastic Four and it proves to be a success. Fortunately, Reed is able to whip up an anti-"newtrak" ray and prevents the Monocle from causing any problems at the United Nations. Meanwhile, Medusa escorts Crystal back home to rejoin the Inhuman Royal Family despite Johnny's protests.

Jay's Notes:
First appearence of the Monocle!