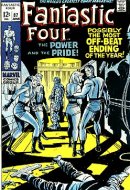 Fantastic Four # 87: "The Power and the Pride!"
Writer: Stan Lee
Penciller: Jack Kirby
Inker: Joe Sinnott

Jay's Rating:
JJJJ1/2
Synopsis:
The Fantastic Four, with Sue at their side, storm Doom's castle. The castle's defenses keep Reed, Ben, and Johnny busy, while Sue and Crystal are whisked away to have dinner with Dr. Doom. Hauptmann tries to destroy Reed, Ben, and Johnny in Doom's art gallery, which prompts Doom to destroy his minion. Doom tires of this "game" and allows the FF to safely leave his country.