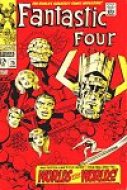 Fantastic Four # 75: "Worlds Within Worlds!"
Writer: Stan Lee
Penciller: Jack Kirby
Inker: Joe Sinnott

Jay's Rating:
JJJ1/2
Synopsis:
Galactus continues his search for the Silver Surfer, who has taken refuge deep inside the sub-atomic world. Galactus sets his sights on Reed, Ben and Johnny and (for some reason???) pulls them into space and then returns them. They are attacked by evil duplicates (created by Galactus???) and defeat them by switching partners. Galactus threatens to destroy the Earth, until Reed offers to find the Surfer.