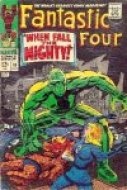 Fantastic Four # 70: "When Fall the Mighty"
Writer: Stan Lee
Penciller: Jack Kirby
Inker: Joe Sinnott

Jay's Rating: JJJJ
Synopsis:
Reed and Johnny, along with the NYPD storm the Mad Thinker's hideout and rescue Dr. Santini. Soon after, the Thing attacks them, and they manage to stop him. However, the Mad Thinker dispatches his deadly android to attack the FF. Sue joins the fray only to find her teammates unconscious and the android turns its attention to her!