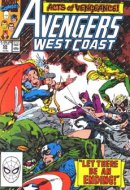 February 1990
West Coast Avengers # 55: "The Breaking Strain"
Writer: John Byrne
Penciller: John Byrne
Inker: Paul Ryan

Jay's Rating:
JJJJ
Synopsis:
Magneto abducts his daughter the Scarlet Witch. The Wizard (captured in Avengers #313) escapes and leads the Avengers to the mastermind behind the Acts of Vengeance, Loki. The Avengers engage Loki and it's Thor who finally overcomes his evil step-brother. The West Coast Avengers return home and are attacked by the Scarlet Witch.

Roll Call:
Captain America, Falcon, Hawkeye, Henry Pym, Human Torch, Iron Man, Mockingbird, Scarlet Witch, Thor, USAgent, Wasp, and Wonder Man.

Jay's Notes:
Acts of Vengeance tie-in.