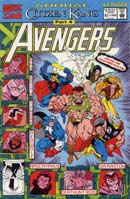 Avengers Annual # 21: "Kang's World"
Writer: Mark Gruenwald
Penciller: Herb Trimpe
Inker: Brad Vancata/Charles Barnett

Jay's Rating: J1/2
Synopsis:
The Avengers and FF take on the Anachronauts, but decide to play possum to discover Kang's plot. Kang brings Vision, Cap and Thor II to Chronopolis, but before he can put his plot into motion he is killed by the Temptress. Another Kang appears and discovers that she is Ravonna. Ravonna, disgusted with Kang's treatement of her over the years, vows to destroy him and all his alternate-time versions. Meanwhile, the Avengers and FF, freed by Sersi, defeat the Anachronauts. Kang sacrifices himself for Ravonna and it convinces her to take up his mantle and rule Chronopolis in his place.
Roll Call:
Black Knight, Black Widow, Captain America, Crystal, Doctor Druid, Hercules, Sersi, Thor II, and Vision.
Jay's Notes:
The Anachronaut Apocryphys reveals himself to be Sersi's son.