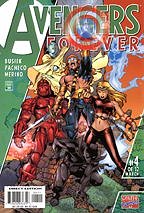 Avengers Forever # 4: "Running Out of Time"
Writer: Kurt Busiek/Roger Stern
Penciller: Carlos Pacheco
Inker: Jesus Merino

Jay's Rating: JJJJJ
Synopsis:
The Avengers escape Immortus' wave of destruction by fleeing into the Timestream. Hawkeye takes out his frustrations on Libra, who leaves them. Both Pyms work together to locate Immortus' temporal imbalances and the team splits up to investigate them. Jones is forced to stay behind for his own safety. Giant Man and Captain America make their way to an alternate future Earth where Martians have conquered Earth and the Earth is defended by the Avengers who are made up of Black Panther, Crimson Dynamo, Jocasta, Killraven, and Thundra. YellowJacket, Hawkeye, and Songbird travel to the late nineteenth century American West (circa Avg. 142-143). Genis and Wasp stop off in an alternate late fifties Earth where they encounter that time's Avengers: 3-D Man, Gorilla Man, Human Robot, Marvel Boy, Venus.