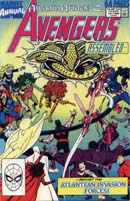 Avengers Annual #18 : "Avengers Assembled"
Writer: Michael Higgins
Penciller: Ron Wilson
Inker: Mike Gustovich

Jay's Rating: JJ
Synopsis:
Llyra and Ghaur have completed the recreation of the serpent crown on a massive scale. Ghaur commands Attuma to lauch the attack against the surface world with his undersea allies Tyrak, U-Man, Lord Arno, and Krang. In the wake of the initial attack, Cap summons the full roster of Avengers. He splits them up into teams and they each head off to stop the Attuma's multi-pronged attack. The Avengers successfully defend all their fronts and drive the Atlanteans back. Their mysterious ally helps out by unleashing a sea monster that attack the Atlantean army, and he defeat Krang.
Roll Call:
Black Panther, Black Widow, Captain America, Captain Marvel, Hawkeye, Human Torch I, Hulk, Iron Man, Invisible Woman, Rick Jones, Mr. Fantastic, Mockingbird, Moondragon, Pym, Scarlet Witch, Sersi, She-Hulk, Tigra, Thor, Vision, Wasp and Wonder Man.