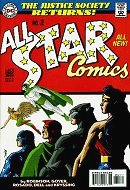 All-Star Comics # 2 (1999): "Time's Arrow"
Writer: James Robinson/David Goyer
Penciller: William Rosado
Inker: John Dell/Ray Kryssing

Jay's Rating:

JJJJ
Synopsis:
Dr. Occult assembles the JSA after they've successfully defeated the Stalker's disciples and they discover Stalker's headquarters in the Antarctic. The JSA make their way there under Green Lantern's power and split up to systematically take out Stalker's operations. The Atom, Flash, Hawkman, Hourman, and Wonder Woman engage Stalker directly. Meanwhile, Dr. Occult and the Thunderbolt tap into his absence of a soul which provides Hourman the opportunity to toss his hourglass at Stalker. It shatters and devolves Stalker back through his own timeline.
Jay's Notes:
A great job at passing the Hourman mantle to the current Hourman, despite my dislike for the character himself.
Atom adopts a new costume and begins to manifest his new super-human powers.
Nice to see Hawkman take his rightful place among the heavy hitters.
The new JSA looks promising especially with the inclusion of the current Starman, and a new Hawkwoman!