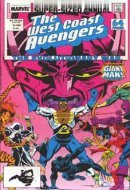 Avengers West Coast Annual #3
Writer: Steve Englehart
Penciller: Al Milgrom
Inker: Gerry Talaoc

---


Writer: Steve Englehart
Penciller: Al Milgrom
Inker: Cynthia Martin

Jay's Rating:
see below
Synopsis:
"Heads You Lose -- !" JJJ
The High Evolutionary dispataches his Purifiers to Wakanda to seize some Vibranium, which is the last component needed for his Evolutionary Bomb. However, the Purifiers find the Black Panther and his warriors difficult prey. He summons the West Coast Avengers in time for a battle with more of the High Evolutionary's agents. His agents succeed is taking some Vibranium and call off the attack.
Roll Call:
Black Panther, Hawkeye, Mantis, Scarlet Witch, Vision, and Wonder Man.
---
"Tails You Win!" JJ1/2
Steve Englehart/Al Milgrom/Chris Ivy
The other half of the West Coasters travel to the Savage Land, which has been recently restore, and seek an audience with the High Evolutionary. He explains that he is building an Evolutionary bomb and when the West Coasters object he captures them. Mockingbird escapes and confronts the High Evolutionary, but this time with a bit of help from Giant Man (Bill Foster). They force the High Evolutionary to flee, and he destroys his base of operations behind him, knowing that his agents has all the components necessary to build the bomb.
Roll Call:
Mockingbird, Moon Knight, Tigra